The Eaton Diary of London 2001
Sunday, September 16.
Having missed the family wedding in Florida after being stranded in LA for 6 days during the NY crisis, Nicole and her friend Jemima arrived in London to meet up with their planned 'Contiki' European Tour. We met them at Heathrow and helped them settle into their hotel, and gave them a meal the following night before doing the rounds of the Putney Pubs to find Jemima's cousin who works in one. They left on their tour on the Wednesday.
Meanwhile, Mother had finally arrived in Florida to hear all about the wedding she missed. (A number of other friends and relatives also missed it because they couldn't get the flights they had booked.) Andrea and Mark had managed to get to the wedding from London, because they left a week earlier and were already there. (Their flights back to work in London were delayed several days, however.) Margie and I had hoped to go the wedding also, but had decided we couldn't manage it. We wouldn't have made it anyway, as it turned out.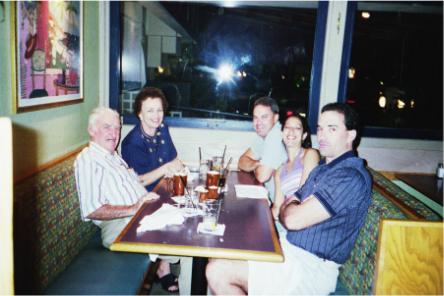 Saturday, September 29.

Mother arrived in London for a 10 day visit. After a day to get over the flight and to find a bed to sleep in,
we looked forward to a visit to the London Eye the next day. (Follow the links below.)