Guiding Vision for Fruitfulness in Music Ministry
Grant Eaton, October 2002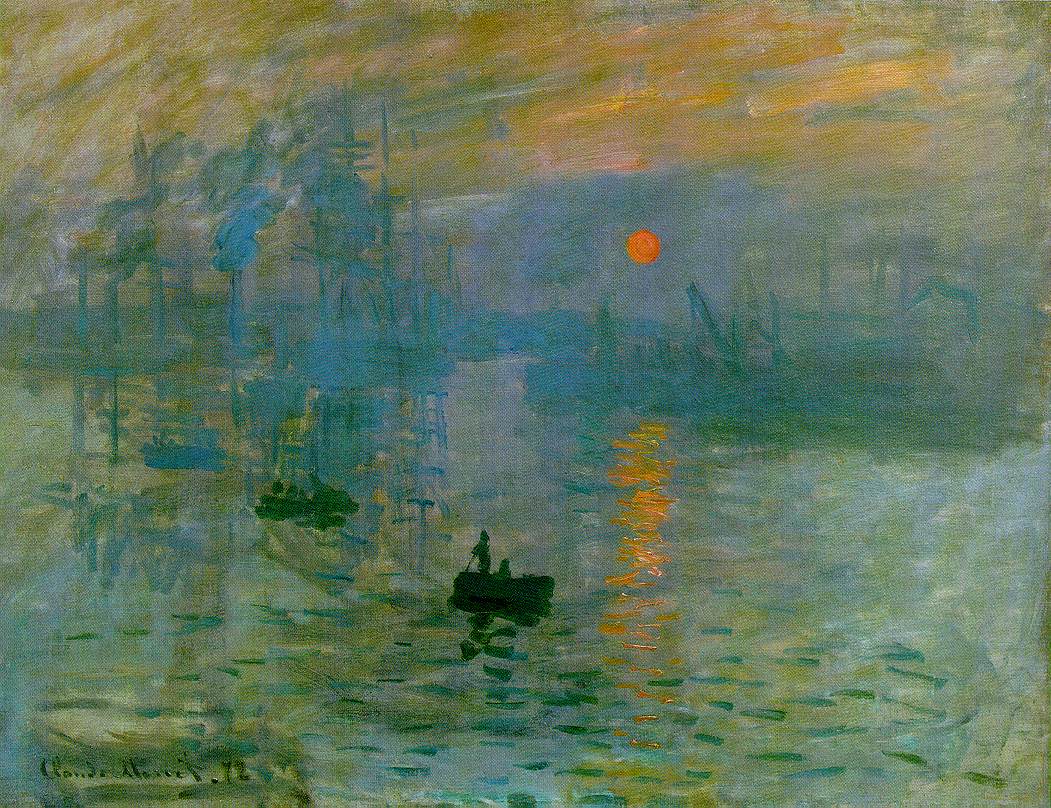 Pursue the Son! - then see mere impressions become clear expressions.
Monet's Impressionistic Sunrise gives a clear vision of the sun while everything else is depicted as the artist's impressions of the real images. I have always had a soft spot for the Impressionists, and I have been somewhat helped in my thinking for this topic by Monet's approach to this painting. For fruitfulness in music ministry, we must have a very clear vision of the Son - the source of all Light, Life, Truth, Reality - but the surrounding detail may not be immediately clear. It is my intention to paint some impressions from my experience of what is fruitful in music ministry, but you will need to discern the detail. It will become clear to you as you pursue Christ and seek His direction for your situation.

It is the sun that gives definition to any image. What an amazing difference the sun makes to the beauty expressed in a garden. Look out on a grey and overcast day, and then compare it to a bright and sunny day. Everything is clearer, brighter - you can see more detail, more intensity of colour, and further into the distance, as the sun transforms a misty impression into vivid, living colour. This vision for fruitfulness in music ministry depends on such a transformation. Let the Son illuminate us. May He guide us with His Light.

Lord Jesus, shed Your light on us today. We turn to You and open ourselves to Your light, asking You to take the veil from our eyes so we can behold Your glory. Give us a fresh vision of who You are, of who we are, and what You have made us and are making us.

You made us in Your Image - so transform us into Your likeness with ever-increasing glory, which only comes from You, so that as Your servants, our musical expressions will reflect You and Your glory, and express You to a dark and dying world. (2 Cor 3:16-18)
We all need a guiding vision, because without it our ministry will not have direction and purpose. But the Vision presented here is not intended to be a clear, precise, definitive discussion of styles, forms, or techniques, but rather, may we be encouraged to persistently pursue the Son. "Fix your eyes upon Jesus" (Heb 12.2)
Base every day of your ministry on the pursuit of Christ and then all the surrounding images will come into clear focus one by one and day by day. Fruitfulness is the reward for such a faithful pursuit. It is a PROCESS, a LIFE of following Christ, a life's work, a LIFESTYLE, abiding in the Vine, - and as such, is as dynamic and diverse in the detail of its expression, as the men and women who pursue it, and the languages and cultures that express it.
But isn't that obvious, and why can't we just get on with the practical details of making music?
We seem to very easily divorce the spiritual from the practical, and in the process dismiss the spiritual with a cursory 'Yes, I believe all that' and proceed to live as if we don't really believe it, and don't let the principles impact our ministry. But if we know the truth, and believe we HAVE the Truth, and if we believe we know the answer to life, and indeed we believe we HAVE Life, why do we so easily pursue ministry without regularly coming to, and communing with, the One Who IS Truth and Life? Looking back over three decades of involvement in music ministry, I would have to say that periods of unfruitfulness have come because of this very thing - my failure to drink from the Fountain of Life, and to abide in the Vine that is the source of supply for the living and producing fruit. I have too often been just like the Jews that Jesus chided:
"You diligently study the Scriptures because you think that by them you possess eternal life. These are the Scriptures that testify about me, yet you refuse to come to me to have life." (John 5:39-40 NIV)

"...Too many times we only give lip service to God's Word. We say it is true but we act like it isn't. What if God meant what He said? What if it's true that only dead men see His face?

We are too easily satisfied with things that are not quite what they ought to be. I'm pressing my point because the Church is in grave danger of once again stopping at the "burning bush" in this wonderful visitation of God's presence..."

Tommy Tenney, The God Chasers Destiny Image, 1998, p.55
"Be diligent, study hard, practise! - practise! - practise!, work tirelessly, freely give of your time, make sacrifices, be innovative, get organised, hone your skills..." - these are some of the things I keep telling myself. Then I figure, one day, it will all pay off. But as important as all these things are, even surrendering one's time, talent, training, technique, or temperament, this will not ultimately produce any lasting fruit. Drinking Living Water, abiding in the Vine...these are the keys to fruitfulness in music ministry.
"...Jesus Christ says in effect, don't rejoice in successful service, but rejoice because you are rightly related to Me. The snare in Christian work is to rejoice in successful service...
...this conception of practical work that has not come from the New Testament, but from the system of the world in which endless energy and activities are insisted upon, but no private life with God. It is bred into us that we have to do exceptional things for God, but we have not. We have to be exceptional in the ordinary things, to be holy in mean streets among mean people."
Oswald Chambers, quoted in Life's Ultimate Privilege DeVern Fromke, Sure Foundation, 1986, Day 7 p.5
Let's seek a Guiding Vision for Fruitfulness in Music Ministry...